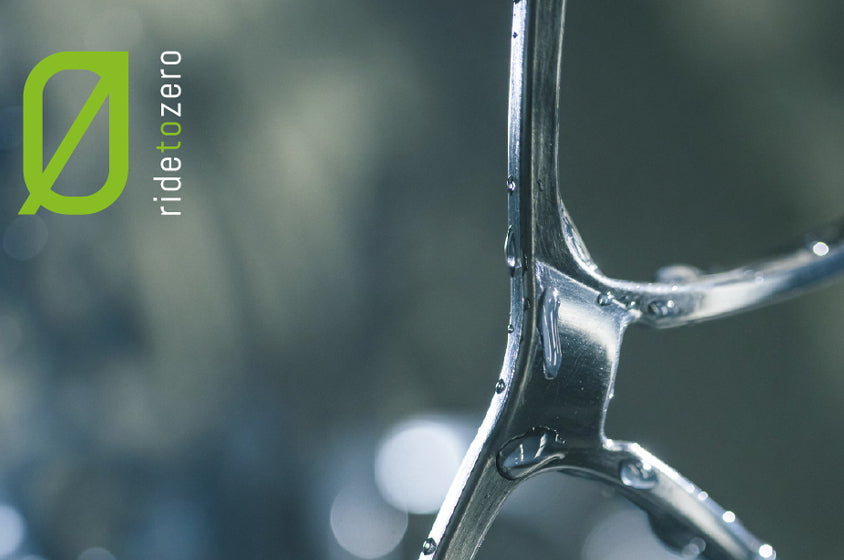 In a world where environmental consciousness is paramount, Rudy Project, under the philosophy of RideToZero, is making significant strides in minimizing its environmental footprint. As an avid supporter of sustainability, I, Greg Rule, am excited to take you on a journey through Rudy Project's commitment to preserving our planet and crafting high-quality sunglasses from Rilsan Clear®.
The RideToZero Philosophy
RideToZero isn't just a catchphrase; it's a profound commitment to sustainability that drives every aspect of Rudy Project's operations. The goal is crystal clear: to minimize the environmental impact across product development, materials, packaging, design, and organizational processes. It's a journey we're embarking on, knowing that real change takes time, but we're already pedaling in the right direction.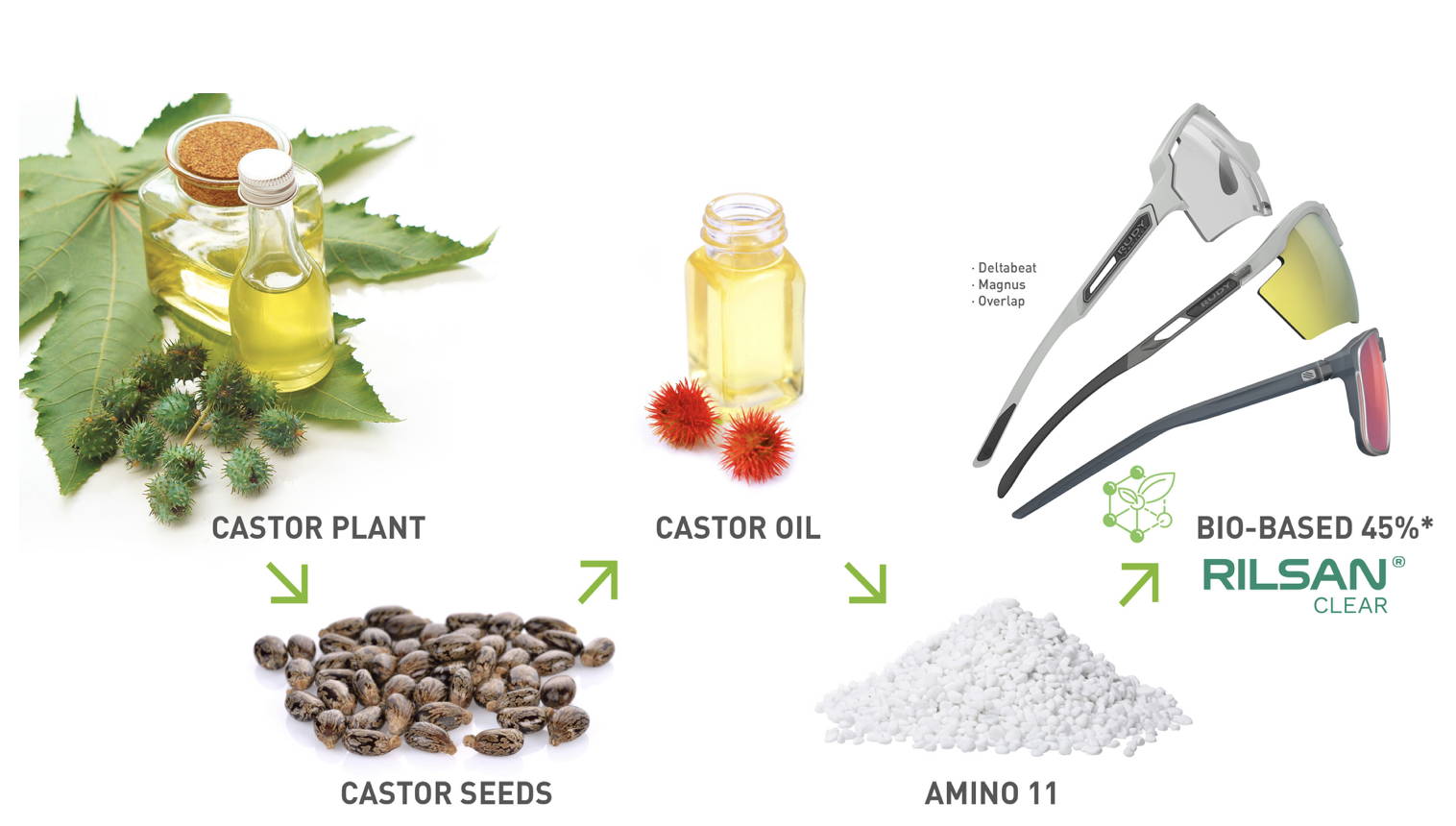 The Marvel of Rilsan Clear®
A Bio-Based Performance Polymer
At the heart of Rudy Project's sustainability quest lies Rilsan Clear®, a bio-based performance polymer that represents a pivotal milestone in our journey. This exceptional material is crafted from castor beans grown in the picturesque Gujarat region of India. The beans are carefully crushed to extract castor oil, which undergoes a meticulous refinement process to become the primary bio-based raw material for the polymer.
BPA-Free and Highly Sustainable
Rilsan Clear® isn't just any polymer; it's a game-changer. It's not only BPA-free but boasts the highest bio content and the most extensive range in the marketplace. With Rudy Project's commitment to sustainability, Rilsan Clear® is a perfect match, aligning seamlessly with our vision to reduce our environmental footprint.
Unparalleled Properties
Rilsan Clear® isn't just eco-friendly; it's a high-performance marvel. Its key properties include lightness, chemical and fatigue resistance, flexibility, and easy processability. These attributes make it exceptionally durable, capable of withstanding shocks, weather conditions, and the rigors of sports use. When you wear Rudy Project sunglasses with Rilsan Clear® frames, you're not just making a style statement; you're supporting a sustainable future.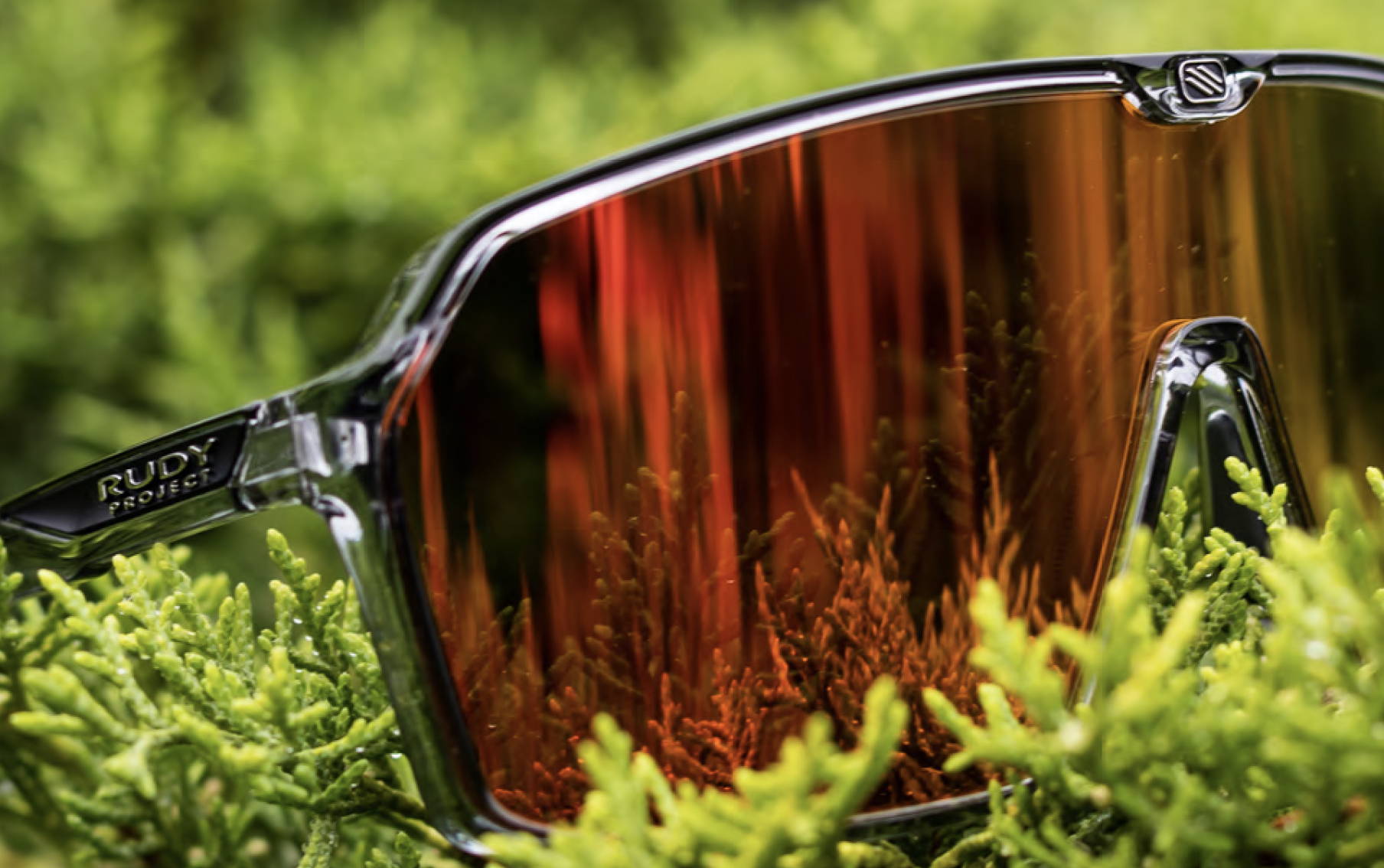 Join the Sustainable Journey
As a dedicated advocate of Rudy Project's commitment to sustainability, I invite you to join us on this remarkable journey. Every pair of Rudy Project sunglasses crafted from Rilsan Clear® represents a step toward a greener, more sustainable world. By choosing Rudy Project eyewear, you're not just protecting your eyes; you're helping protect our planet's playgrounds for future generations.
FAQs (Frequently Asked Questions)
What makes Rilsan Clear® a sustainable choice for sunglass frames? Rilsan Clear® is made from castor beans, a renewable resource, and boasts exceptional durability, aligning perfectly with Rudy Project's sustainability goals.

Are Rudy Project sunglasses with Rilsan Clear® frames eco-friendly and safe for the environment? Yes, Rudy Project sunglasses with Rilsan Clear® frames are eco-friendly and pose no harm to the environment, as they are BPA-free and derived from sustainable sources.

How can I contribute to Rudy Project's sustainability efforts as a consumer? By choosing Rudy Project sunglasses crafted from Rilsan Clear® and supporting eco-conscious brands, you play a vital role in promoting sustainability.

Are Rudy Project sunglasses with Rilsan Clear® frames suitable for sports and outdoor activities? Absolutely! Rilsan Clear® frames offer exceptional durability and weather resistance, making them perfect for sports enthusiasts and outdoor adventurers.

Where can I access the latest Rudy Project sunglasses made with Rilsan Clear® frames? Explore the latest Rudy Project eyewear collections, featuring Rilsan Clear® frames - https://rudyproject.com.au