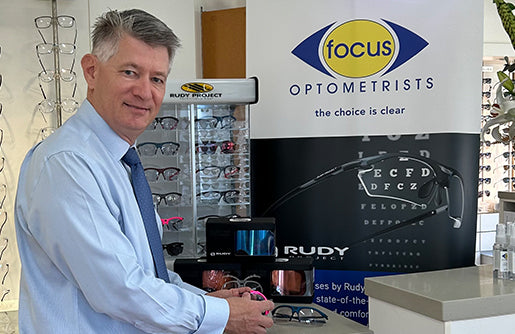 If you're in the "Brissy" area and searching for top-notch sports prescription eyewear, Focus Optometrist is your go-to destination. Owned by the experienced optometrist Simon Hurwood, this optical practice is your ultimate partner in achieving clear and crisp vision tailored to your sports and outdoor activities. Specializing in sports prescription eyewear, including the renowned Rudy Project collection, Focus Optometrist is your trusted source for enhanced visual performance.
Meet Simon Hurwood: Simon Hurwood, the proud owner of Focus Optometrist, brings over 25 years of experience as an optometrist to the table. His dedication to the field of optometry is underscored by his academic achievements, including an MBA and a Graduate Certificate in Ocular Therapeutics, allowing him to treat a wide range of eye conditions.
Simon's journey began in 1992 when he graduated from the QUT School of Optometry. After spending two years in Port Hedland, a mining town in the far north-west of Australia, he returned to Brisbane in 1996, where he continued to hone his skills as a clinician at the QUT Optometry Clinic. Over the years, he gained invaluable experience through locum work across the state, specializing in contact lenses, eye diseases such as macular degeneration, glaucoma, diabetes, and cataracts.
Simon's passion for helping individuals extends beyond the clinic. He actively coaches and supports his children's sports endeavors, which include rugby, cricket, rowing, and soccer. This commitment to both his profession and family reflects his dedication to enhancing the lives of those around him.
The Rudy Project Connection: At Focus Optometrist, they take pride in their partnership with Rudy Project, a renowned name in sports eyewear. Their commitment to offering the best extends to Rudy Project's exceptional products, including the Skermo Ski goggles with RX-Clip. These innovative goggles accommodate single or progressive vision needs, with the capacity to address powers of up to -6. Whether you're a professional athlete or a weekend enthusiast, Focus Optometrist has the eyewear solutions to optimize your performance.
Not only do they offer the Skermo Ski goggles, but Focus Optometrist also specializes in the RYDON and RYDON SLIM collections from Rudy Project. These eyewear options are designed to meet the specific demands of cyclists and sports enthusiasts, providing crystal-clear vision and unparalleled comfort.
Visit Focus Optometrist: If you're in the Brisbane area and in need of cycling prescription eyewear or sports prescription solutions, make it a point to visit Simon and his dedicated team, including Sandra, at Focus Optometrist. You'll find them at:
Address: 699 Sherwood Road, Sherwood QLD 4075 Tel: 07 3278 1377 Email: hurwood5@bigpond.net.au Website: Focus Optometrist