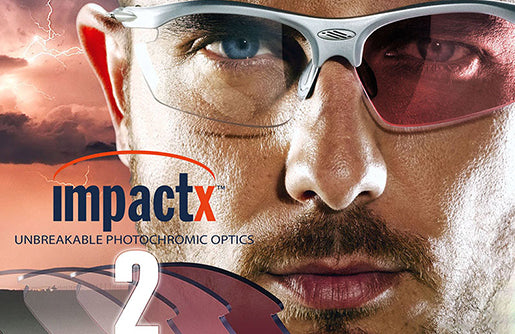 When it comes to eyewear that seamlessly blends protection and performance, look no further than Rudy Project Australia's cutting-edge Photochromic Lenses.These lenses have an incredible knack for quickly adjusting to different lighting conditions. They smoothly shift from clear lenses when you're indoors or in low-light situations to becoming protective sunglasses under the bright sunlight. This impressive technology eliminates the hassle of constantly changing your eyewear, ensuring you have uninterrupted clarity from sunrise to sunset. Rudy Project Australia's Photochromic Lenses ensure you always have the right tint for any environment, making them the ideal choice for all your sporting adventures
DISCOVERING PHOTOCHROMIC LENSES
Photochromic lenses are meticulously crafted by integrating a layer of photochromic dye into the lens itself, particularly in the case of high-performance sports eyewear made from shatter-resistant, lightweight polycarbonate.These specially designed dyes contain molecules that react to UV light, effectively absorbing the sun's harmful rays, including UVA and UVB. This ensures that your eyes remain protected from the potential harm of sunlight, even when the lenses are clear
It's important to note that traditional photochromic lenses primarily react to UV rays rather than visible light. This means their effectiveness may be reduced when worn in a vehicle with UV-coated windows.To address this challenge, Rudy Project Australia provides photochromic glasses that not only react to UV light but also respond to visible light. This ensures reliable protection and performance whether you're on the road or enjoying the great outdoors
PHOTOCHROMIC VERSUS POLARIZED LENSES
In the past, athletes faced a dilemma: choosing between the adaptability of photochromic lenses and the exceptional optics of polarized lenses, especially for water and snow sports. The primary challenge of photochromic lenses used to be their ability to reduce glare effectively, a feat polarized lenses accomplished effortlessly. Fortunately, technological advancements have bridged this gap a fair bit
One significant development is the introduction of tinted photochromic lenses, moving away from the traditional black-only scheme. Rudy Project Australia's photochromic lenses with High Dynamic Range (HDR) offer a perfect example of this technology. These lenses provide you with the best of both worlds, delivering heightened contrast, improved clarity, and enhanced depth perception, all in one package.
UNPARALLELED VERSATILITY WITH PHOTOCHROMIC GLASSES
Whether you're a weekend warrior or a professional athlete, Rudy Project Australia's Photochromic Glasses are your all-encompassing eyewear solution. You can confidently begin your early morning workout in low light conditions, knowing that your lenses will remain clear. As the sun rises, they seamlessly transition into sunglasses, ensuring optimum visibility. This adaptability extends not only to outdoor activities but also to navigating bright and shaded terrains, even performing under field lights or in well-lit arenas. With Rudy Project Australia's photochromic lenses, you no longer need multiple pairs of glasses for varying conditions; one pair does it all.
MAXIMIZING THE POTENTIAL OF YOUR PHOTOCHROMIC LENSES
While these lenses are technological marvels, there are a few considerations to keep in mind. As previously mentioned, they may be less effective when driving in a vehicle with UV-coated windows. Additionally, the molecules within the lenses can lose some effectiveness over time, typically after a few years of use.
If you reside in a hot climate, here's a pro tip: store your photochromic glasses in the refrigerator before heading out for your activities. The colder temperature can enhance the transition speed and darkness of the lenses, ensuring optimal performance when you need it most. Incorporate Rudy Project Australia's Photochromic Lenses into your active lifestyle today and experience the perfect blend of protection and performance they offer. Say goodbye to swapping eyewear and hello to uninterrupted clarity and comfort.
Watch this video to witness the remarkable speed at which Rudy Project Australia's Photochromic Lenses transition from clear to dark.