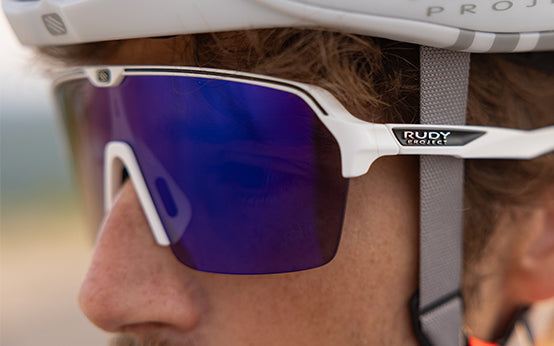 Introducing the all-new Rudy Project Spinshield Air with the incredible "ImpactX Photochromic Purple Lens"! 🕶️💜
Dive into the extraordinary with the captivating blue mirror coating on Rudy Project's IMPACTX purple photochromic lenses! These lenses are more than just eyewear; they are a game-changer in style and performance. Elevate your every adventure with this stunning fusion of aesthetics and innovation.
The magic lies in the ImpactX Photochromic Purple Lens. 🌞 When exposed to UV light, it transforms from a gentle, light purple hue to a bold, dark purple tint with incredible sensitivity. It's like having a chameleon on your face, adapting to your surroundings effortlessly. 🌈
Experience the world through this vibrant lens, where every moment becomes a work of art. 🎨 Whether you're cycling through scenic routes or enjoying a leisurely stroll, these lenses provide extreme clarity and sharpness of vision. They're your secret weapon against changing light conditions!
Early mornings or bright sunny days, the ImpactX Photochromic Purple Lens has you covered. It starts the day with a gentle touch of purple, letting you enjoy the subtleties of your surroundings. As the sun climbs higher, watch it transition to a deep, dark purple tint, shielding your eyes from harsh glare and harmful UV rays. ☀️
Say goodbye to squinting and hello to unparalleled comfort. Rudy Project Spinshield Air with ImpactX Photochromic Purple Lens is your all-in-one solution for style, performance, and eye protection.
Don't miss out on this optical masterpiece! Elevate your performance and embrace the beauty of life with Rudy Project. 🚴‍♂️🚴‍♀️
#RudyProjectAus #RudyProject #SpinshieldAir #ImpactXPurpleLens #ElevateYourPerformance #VisionaryEyewear #InnovationInStyle #SeeTheWorldInPurple #AdaptiveEyewear
Get yours today and discover a new way to see the world – in purple perfection! 💜