FREE SHIPPING ON ALL DOMESTIC ORDERS $100+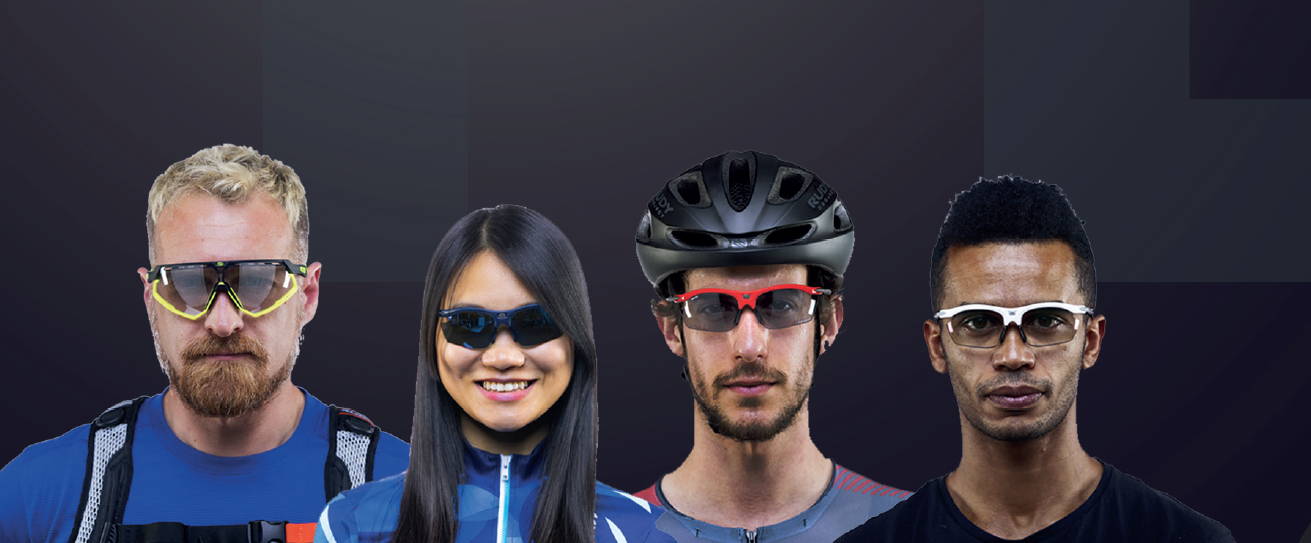 Posted by Greg Rule, 3rd August 2021
Rudy Project Sports Sunglasses
---
Everyone knows that the gift of vision is an invaluable one. A majority of athletes will also agree that their sense of sight is one of their best assets. It is the reason why they are able to see clearly, as well as keep their eye on the ball, and it can make or break their performance. Therefore, vision is considered to be a key factor in excelling at sports. It is highly important for you to make sure that your eyesight is at its peak when participating in numerous sports, including cycling, swimming, and many more.
What are Sports Sunglasses?
Sports sunglasses have been designed to help enhance visual performance. A quality pair of eyewear manufactured for sports purposes does many things to aid with your vision. In addition, depending upon the environment and conditions under which your chosen sport is being played, sports sunglasses have been known to improve vision too.
However, it is important to remember that just because you are wearing sports-specific eyewear, it does not mean that you are doing so for vision correction. Often, they are worn to get rid of unwanted glare that bothers the naked eye.
Adjustable! Create the perfect fitting Sports Sunglass
---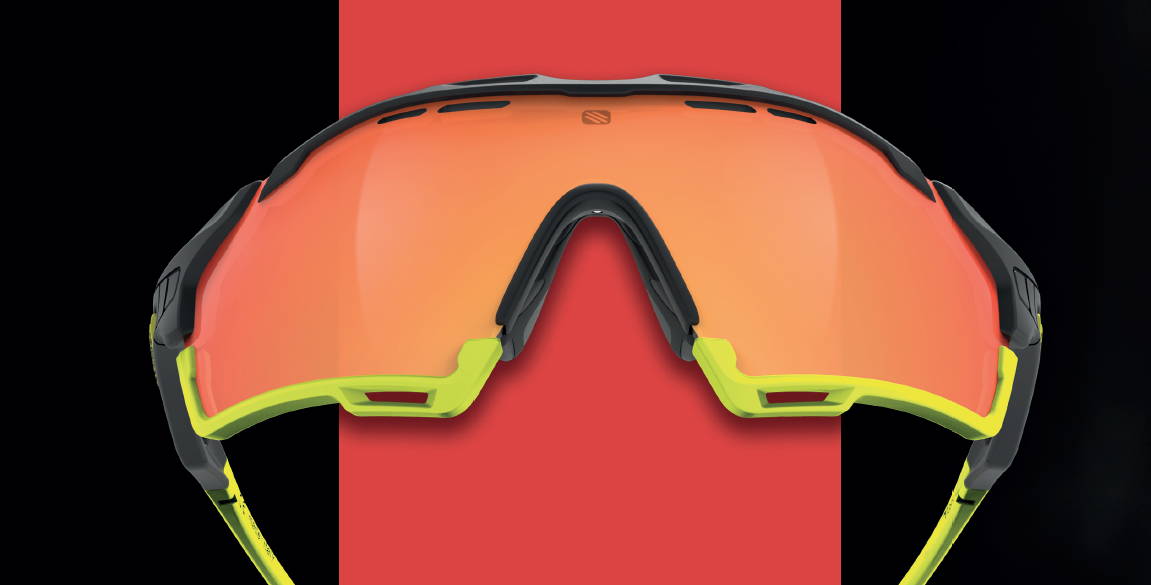 Why You Need to Buy Sports Sunglasses from Rudy Project
In the years of manufacturing and designing sports-related safety gear, Rudy Project has promised to elevate the performance of athletes who buy its products. We use cutting-edge technology to come up with aesthetically pleasing designs while paying special attention to detail. This allows us to create some of the best eyewear on Earth, as well as helmets and other sports gear, and prescription solutions.
Here are several other reasons why sports sunglasses from Rudy Project are perfect if you are looking for a competitive edge.
1.   They protect from UV light
It is no secret that if your eyes are exposed to the harmful UV light of the sun, they may get permanently damaged. In addition, it could lead to eye cancers, cataracts, photokeratitis, which is eye sunburn, growths on the skin near the eyes, and macular degeneration. This is where sports sunglasses from Rudy Project come in. We offer products of excellent quality to block out all UV light from a number of directions. Thus, the rays will not be able to enter your eyes, even from the sides.
2.   They have custom features
While shopping from Rudy Project for your sports sunglasses, you have the opportunity to choose from a number of lenses and frames. There are many outdoor enthusiasts and athletes out there who enjoy the full benefits of our anti-reflective coatings and polarized lenses. This is because they are effective when it comes to reducing surface glare and enhancing contrast and clarity.
Moreover, we offer many colors to tint the lenses, as per the sport that you play. For example, orange or yellow-tinted glasses work best for golfers and helps them see the ball against the blue of the sky or the green of the grass. Whether you are cycling, skiing, rock climbing, running, or fishing, you can personalize your sports sunglasses to go with your chosen outdoor activity or specific sport.
---
3.   They provide eye safety
Millions of adults and children sustain eye injuries every year due to one sport or the other. Therefore, Rudy Project designs sports sunglasses with ultra-durable materials, which are based on shatter-resistant technology. We ensure that your eyes are safe when playing sports which include bats, balls, racquets, pucks, and sticks.
4.   They ensure heightened comfort
Rudy Project prioritizes your athletic performance, and thus, the sports sunglasses we manufacture are designed to protect your eyes from debris, dust, and wind. We make sure that you are able to keep your eyes on the game.
5.   They come with maximum adjustability
Safety and comfort of the wearer are two factors that Rudy Project especially keeps in mind when designing its sports sunglasses. This is the reason why most of our frames come with adjustable nosepieces and temple tips. These ensure that micro-adjustments can be made so that the sunglasses can easily fit on any face.
This is a simple and easy solution designed to allow easy access and comfort to the wearer. Any athlete who buys our products can adjust the nose pads on most of our sports sunglasses with only their fingers. These include Tralyx, Defender, Keyblade, Rydon, Cutline, and Stratofly. Since different people have distinct shapes of nose bridges, this helps create the right fit for everyone and becomes a form of 'Asian' fitting.
Moreover, adjustable notepads have been created to allow maximum airflow between your face and the inner lens. This prevents fogging on the inside of the sports lenses.
Similar to the adjustable nose pads, sports sunglasses by Rudy Project allow you to adjust the temple ends as well. Of course, there are athletes out there who have differently shaped heads. The temple arms are, therefore, able to help you fit the sunglasses snugly. All you need to do is use your fingers to adjust the temple arms. They are flexible enough to fit around your ears, as well.
There are several models that come with adjustable temple arms, such as Tralyx, Defender, Rydon, Cutline, and Keyblade, to name a few.
There are numerous known names out there in various sports, like motorsports, cycling, and triathlon, amongst others, who represent the quality products manufactured by Rudy Project. They wear the sunglasses and helmets designed by the brand in training, as well as competition. With valuable feedback from our loyal customers, we have developed distinct products and decorated them with the latest designs, technology, and aerodynamics. We offer a collection of products that give rise to the comfort, performance, and safety of the wearer in a wide variety of disciplines. It is our pride and joy to serve sports gear and solutions to many sports enthusiasts and professional athletes around the globe. Maybe you could be one of them too.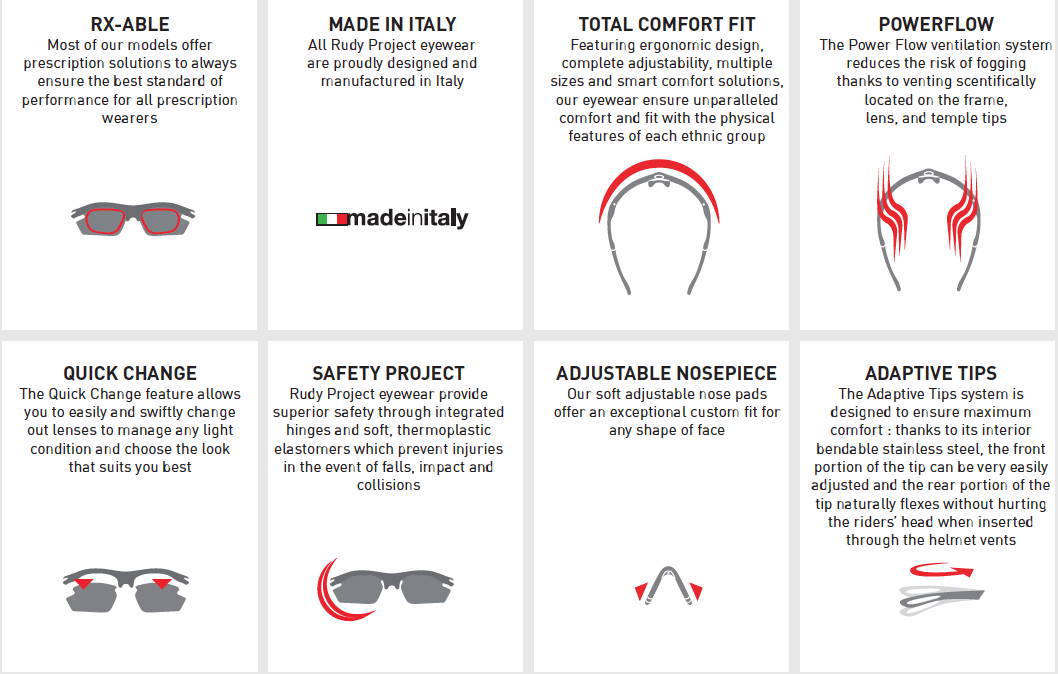 ---