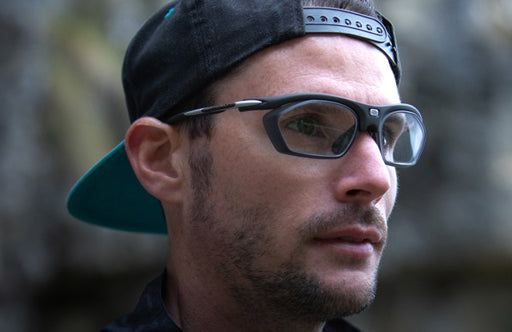 When it comes to performance eyewear for cyclists and sports enthusiasts, Rudy Project's Rydon sunglasses with Optical Dock 1 stand out as an innovative and game-changing choice. These sunglasses offer a unique solution for those who require prescription lenses while enjoying their favorite outdoor activities.
Unprecedented Prescription Power
One of the standout features of the Rydon sunglasses with Optical Dock 1 is the remarkable scripted power they offer. With a base 8 curve design, these sports sunglasses can accommodate prescription powers that soar as high as -11. This level of prescription power is virtually unheard of in the world of sports eyewear, making these glasses a true game-changer for athletes with strong prescriptions.
Rydon:
Weight: 26 grams + RX Dock 8 grams
Eye Size: 68
DBL (Distance Between Lenses): 17
Temple Length: 133
Dimensions: A 68mm, B 39.5mm
Base Curve: 8
Rydon Slim:
Weight: 25 grams + RX Dock 8 grams
Eye Size: 64
DBL: 14
Temple Length: 133
Dimensions: A 64mm, B 37mm
Base Curve: 8
Customization and Cost
The Rydon sunglasses with Optical Dock 1 offer customization options that allow you to select your own lens tint. While many users opt for transition-type tints, the cost of your lenses depends on various factors, including the lens tint, vision correction, and coatings. Generally, scripting single vision lenses with your desired tint can range from approximately $400 to $500, while progressive vision lenses may cost around $600 to $700, including your chosen tint.
Keep in mind that prices can vary based on your preferences, and you have the flexibility to request a cheaper lens material, skip lens coatings, or choose a more affordable lens tint to save on costs.
Avoiding OPSM and Specsavers
It's worth noting that OPSM and Specsavers Optometrists typically do not process Rudy Project prescriptions. This is due to various reasons, including their inability to handle the cutting and grooving of the specialized RX clips used in Rudy Project eyewear. Additionally, these chains often use overseas labs, making it costly and inconvenient to ship the clips back and forth. If you're having trouble finding a suitable eyecare provider, consider reaching out to Rudy Project directly or visiting one of their authorized dealers
The Process: Getting Your Perfect Lenses
Once you've acquired your Rydon sunglasses with the Optical Dock 1 clip, take them to your local optometrist to have your scripted lenses manufactured to fit seamlessly into the RX clip. You have the freedom to specify your requirements, such as requesting a photochromic/transition lens within the docking clip.
What sets the Rydon sunglasses apart is the unique design of the frame, adjusted to accommodate the RX docking clips. This innovative design enables prescription powers to reach remarkable heights, with reports of limits as high as -11 combined power. Whether you require single or progressive vision, the Rydon with the docking system has you covered, offering prescription powers of up to -11.
In conclusion, Rudy Project's Rydon sunglasses with Optical Dock 1 represent a significant leap forward in prescription sports eyewear. With unprecedented prescription power, customizable options, and a unique design that supports a wide range of prescriptions, these sunglasses are a must-have for athletes seeking both performance and clarity in their vision. Discover more about this remarkable eyewear at RYDON OPTICAL DOCK