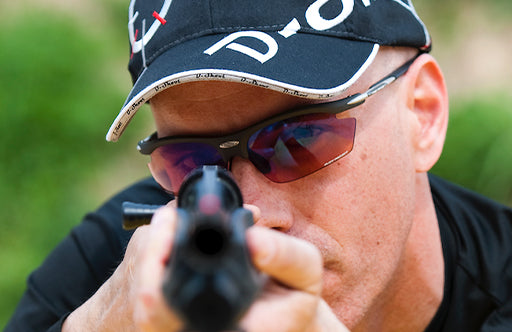 Unveiling the Ultimate Eye Protection
When it comes to eye protection, Rudy Project's Rydon Stealth stands out as a true champion. In this blog post, we'll dive into the impressive features and certifications that make the Rydon Stealth one of the top choices for those seeking premium eye protection. From its ANSI Z87.1+ certification to the innovative ImpactX™ lenses, we'll explore what makes this eyewear a must-have for anyone prioritizing safety without compromising style.
ANSI Z87.1+ Certification: Elevating Safety Standards The Rudy Project Rydon Stealth takes eye protection seriously, as evidenced by its ANSI Z87.1+ certification. But what does this certification mean? ANSI Z87.1 is the American National Standard that sets requirements for personal eye and face protective devices in various environments, including occupational, educational, and military settings. It aims to minimize or prevent injuries from impacts, non-ionizing radiation, and chemical agents.
The "+," which sets the Rydon Stealth apart, signifies additional rigorous impact tests. These include:
Penetration resistance (1.56 oz – 44.2 gm / 50 in – 127 cm)

High Mass Impact (17.6 oz – 500 gr / 50 in – 127 cm)

High Velocity Impact resistance (150 ft/s – 46 m/s)
These tests ensure that the Rydon Stealth provides unmatched protection against a wide range of potential hazards.
ImpactX™ Lenses: The Future of Eye Protection One of the standout features of the Rydon Stealth is its ImpactX™ lenses. These lenses are crafted from NXT®, a patented polyurethane optical polymer that is not only transparent but also unbreakable. NXT® was originally developed to create a bullet-proof, transparent, and lightweight material that outperforms polycarbonate in terms of protection, reliability, and longevity.
Here's why ImpactX™ lenses are a game-changer:
Superior Optical Quality: ImpactX™ lenses offer unparalleled clarity and sharp vision.

Unbeatable Comfort: These lenses ensure comfort even during extended wear.

Casting Process: Made by casting, ImpactX™ lenses have lower internal stress, higher optical homogeneity, and greater mechanical stability compared to traditional polycarbonate lenses.
Ballistic Standard: Going the Extra Mile

In addition to meeting the ANSI Z87.1+ certification, the Rydon Stealth goes the extra mile by adhering to a ballistic standard. This standard certifies the ballistic resistance of personal protective equipment (PPE) for the eyes and face against small arms projectiles and fragments. The reference standards approved worldwide for testing spectacles and goggles include MILV-43511 (paragraph 3.5.10/VO ballistics 0.22 caliber-T37, 550 to 560 ft/s).
Conclusion: Get Stealthy with the Rudy Project Rydon The Rudy Project Rydon Stealth isn't just eyewear; it's a cutting-edge solution for those who prioritize safety and style. With ANSI Z87.1+ certification, ImpactX™ lenses, and adherence to ballistic standards, these sunglasses offer unbeatable protection. Whether you're in an occupational, educational, or outdoor environment, the Rydon Stealth has your eyes covered.
Check out the Rudy Project Rydon Stealth here and experience the ultimate in eye protection. Don't compromise on safety; choose the Rydon Stealth for peace of mind and style.