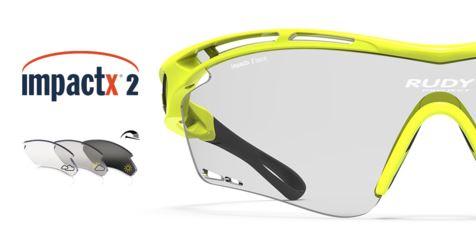 Photochromic or transition lenses which they can also be referred to automatically regulate or change the darkness of the lens tint according to UV and light exposure, making them one of the best and ideal lens for everything from casual wear to competitive sports. The molecules that are responsible for changing photochromic pigment lens tints are activated by the sun's ultraviolet radiation as well as light, allowing them to handle a wide range of environments from very early mornings, night training and even on cloudy days to very bright days. The darkness of the impactx photochromic lenses will adjust within a designated range according to the level of light exposure, making every shade possible including driving in cars where they still change colour but not as much as direct light/UV light – from light to dark and everything in between – and it only takes a few seconds for lens to adjust.
All lenses that adapt to UV light use photochromic molecules; the superiority of Rudy Project's ImpactX photochromic technology lies in their exclusive formula. Most standard photochromic eyewear relies on lens coatings, but Rudy Project ImpactX lenses incorporate a more sophisticated technology. The photosensitive material responsible for the hue change of the lens is embedded directly in the lens matrix, making them both more durable and optically superior.
ImpactX was originally developed for military and aerospace requirements to provide bulletproof, transparent, and lightweight material capable of providing superior protection, reliability, and longer lasting performance than polycarbonate.