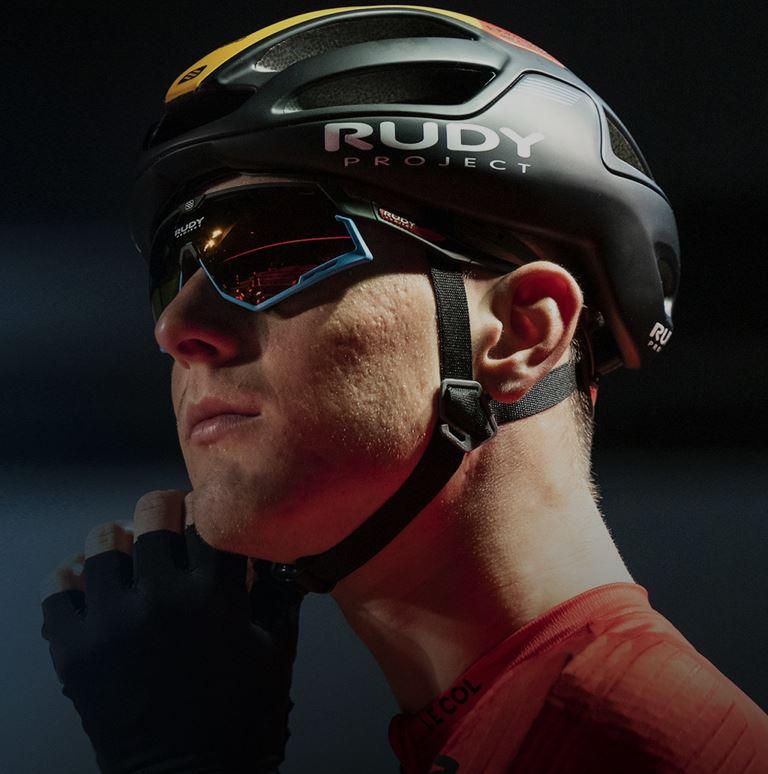 RUDY PROJECT UNCOVERS THE OFFICIAL HELMET AND SUNGLASSES FOR TEAM BAHRAIN MCLAREN 
Team Bahrain McLaren and Rudy Project are excited to be named as official partner of Team Bahrain McLaren until 2023 for bicycle helmets and sunglasses. Rudy Project designs the most advanced sunglasses & helmets in the world with the McLaren  signature colours to deliver the best helmet aerodynamics, protection and comfort while providing the riders a unique and stylish look within the racing peloton. Defender Sunglasses, Spectrum helmet and The Wing time-trial helmet will be the racing products of Team Bahrain McLaren riders in the 2020 and 2021 season. Cristiano Barbazza, Rudy Project President and CEO, declared: "We share with Team Bahrain McLaren the commitment to unparalleled performance and we are thrilled to be part of this new era in World Tour cycling."
DEFENDER SUNGLASSES
Inspired from the Rudy Project iconic heritage, Defender sunglasses takes the distiintive look and blend an innate
 racing attitude with the most advanced sunglass technology to provide incredible  comfort. Ultra-soft Silicon adjustable nosepad which are easy to adjust and temple-tips, ultra-deep field of vision lenses, removable bumpers and the Power Air  Flow ventilation System make Defender extremely comfortable and safe. All of this, combined with the distinctive Rudy Project unique design, make Defender the outstanding sunglass on the sports eyewear scene. The Defender wide shield of vision lens is designed to deliver amazing deep horizon and peripheral field of vision all the while providing enhanced eye and face protection from wind and rain elements.  Defender incorporates the Power Flow ventilation system: the vents placed on the lens, chassis and temples boost the internal air circulation avoiding the risk of fogging during the activity.  The bumpers, removable rubber inserts placed at the bottom of the lens, cushions your face from knocks and are available in different colors to combine safety and customized look. The Defender's adjustable temple tips and nose-pad ensure a stable and comfortable fit without hurting the riders skull. Defender mounts Rudy Project's state-of-the-art ImpactX unbreakable photochromic optics and the vibrant RP Optics Multilaser lenses to ensure maximum eye protection and face any light condition. 

SPECTRUM HELMET
Shaped for performance, the Spectrum helmet is designed to outclass the road helmets standards of comfort, protection and weight. The Spectrum revolutionary dynamic design features a seamless integration of three In-Mold EPS liners knitted together. This unique structure enhances ventilation while keeping this race machine extremely lightweight and comfortable.

Spectrum features the most advanced Rudy Project solutions to enhance riders' comfort. The wide main vents have been scientifically placed in the front and back of the helmet to boost the internal airflow of the helmet all while making the helmet design distinctive and dynamic. 
In addition, Spectrum integrates a frontal airframe band with a net-structure which favors air circulation between the head and the helmet favoring sweat evaporation and avoiding the formation of unpleasant smells on the helmet padding. Available in 3 sizes (S-M-L),  Spectrum is equipped with the lightweight yet resistant RSR 10 M adjustable retention system. RSR 10 M enhances the helmet fitting thanks to its wraparound structure and multiple micro-metric vertical and horizontal positions for the size adjustment. Above the retention system there are two reflective stickers to enhance riders visibility while pedaling.
Spectrum is equipped with two paddings: the free pads for an open configuration and the bugstop padding to protect from insects while riding.